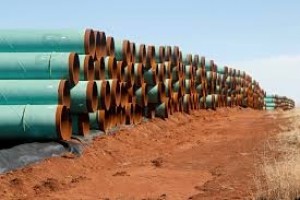 TransCanada says it intends to file a claim under Chapter 11 of the North American Free Trade Agreement in response to the U.S. government's rejection of the company's proposed Keystone XL pipeline.
The company said Wednesday it has filed a notice of intent to initiate the NAFTA claim on the basis that the denial was arbitrary and unjustified.
The Calgary-based firm says it will be looking to recover US$15 billion in costs and damages as a result of what it says is a breach of NAFTA obligations.
TransCanada says it has also filed a lawsuit in the U.S. Federal Court in Texas asserting that President Barack Obama's decision to deny construction of Keystone XL exceeded his power under the U.S. Constitution.
The 1,900-kilometre pipeline has been in limbo for more than seven years, and at times has been an irritant in U.S.-Canadian relations.
The project, which also became a focal point of environmental protests, would have shipped bitumen from Alberta's oilsands through a pipeline hub in the Hardisty area to U.S. Gulf Coast refineries.
TransCanada says it had every reason to expect the pipeline would be approved since it met the same criteria as previous pipelines that were sanctioned.
In Saskatchewan, Premier Brad Wall is tweeting his favour to this move.
It is expected Wall will have more to say on this matter Thursday.
(with files from Canadian Press)