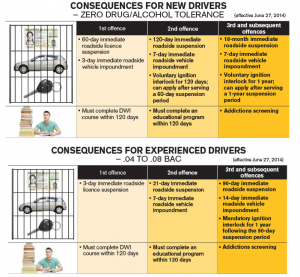 (SGI's consequence-list of drinking and driving)
Premier Brad Wall says the loss of an entire family in a crash near Saskatoon is an unspeakable tragedy.
Jordan Van de Vorst, his wife, Chanda, and their two young children died after their car was struck by an SUV early Sunday.
Wall says the Highways Ministry is looking into what can be done to improve safety at the crash site, but he adds even the safest intersection can be deadly if someone's driving drunk.
The premier says it's frustrating that Saskatchewan has the highest impaired driving rates per capita of all provinces.
Saskatchewan implemented tougher penalties for impaired driving in 2014 and Wall says it's time to look at options to crack down even further.
A 49-year-old woman, who is charged with impaired driving causing death in the Saskatoon crash, has appeared in court and is to do so again on Thursday.