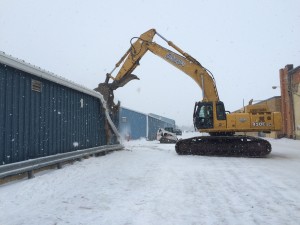 Work has begun in preparation for the new International Trade Centre at Evraz Place.
14 buildings are set to be demolished to make room for the new 15-thousand square foot, multi-use facility.
Mark Allen, President and CEO of Evraz Place says the destruction of the buildings was a long time coming.
"We have proud history here of the property with the buildings contributing to that over the years. But clearly, for the future of the City and the province, and the shows and clients, we're looking very much look forward to a shiny new building."
Demolition will wrap up on the 14 buildings by March, while the whole project is set to be finished by November of 2017.