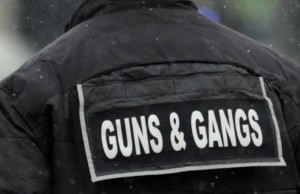 A 26-year old Saskatoon man is facing a number of charges following an investigation by members of the Guns and Gangs Unit in Saskatoon.
Saskatoon Police were alerted by North Battleford RCMP a vehicle, containing firearms and ammunition had been stolen from their city.
On January 8, members of the Guns and Gangs Unit spotted the 2014 Ford F150 parked outside a residence in the 200 block of Avenue F North.
A 26-year old man was arrested as he left the house and approached the vehicle.
He was searched and found to be in possession of the truck keys and a magazine clip for a .22 rifle containing live ammunition.
The rifle was located in the backyard of the residence.
The man is now facing charges of Possession of Stolen Property Under $5000., Possession of Stolen Property Over $5000, Breach of Probation and a number of firearm offences.
After a surge in drive-by shootings, police chases, and drug activity, the Saskatoon Police Service created the guns and gangs unit in the spring of 2015.