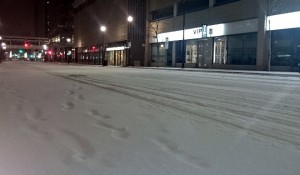 Parts of southern Saskatchewan, including Regina are being greeted with a couple of centimetres of snow Thursday.
Although no warnings or advisories have been released by Environment Canada, the Queen City has a white covering of fresh snow for the morning.
The snow and milder conditions are likely to contribute to icy and slippery conditions for the morning commute.
Wednesday in Regina, Ring Road near Ross Avenue was the location of a three-car accident.
It happened just after the morning commute and tied up traffic for a short while.
One woman was taken to hospital with minor injuries
Police have not laid any charges in this incident, but motorists should be advised roads and highways can be expected to be icy or slippery throughout the morning hours.