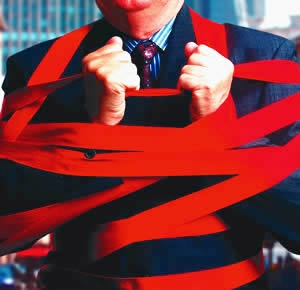 The government of Saskatchewan and the Canadian Federation of Independent Business have proclaimed the 18-22 as
Red Tape Awareness Week
 in the province. The week was created to highlight the province's efforts to reduce the regulatory burden for Saskatchewan businesses and consumers.
The Regulatory Modernization Progress Report for 2014-2015 identified more than 200 initiatives undertaken to reduce red tape in Saskatchewan. Other achievements this year included cost savings across government, identified through a regulatory cost model used as part of the Red Tape Reduction Action Plan.
A target of $5 million dollars in savings was established for the 2015-2016 fiscal year. $12.4 million dollars in savings has been achieved to date, through regulatory changes at the Ministry of Health, Saskatchewan Government Insurance, the Ministry of Government Relations and SaskEnergy, SaskTel and SaskPower.