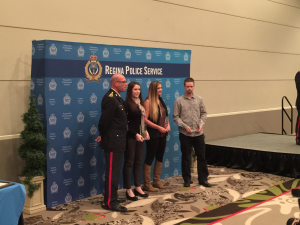 The Regina Police handed out their annual awards on Tuesday afternoon.
A total of 23 people, 12 civilians and 11 police officers, received recognition under 5 award categories:
– Special Services Award – presented to persons for their volunteer work in the community.
– Community Policing Award – presented for work such as problem-solving or crime prevention initiatives.
– Meritorious Performance Award – presented for operational or investigative work well above the standard.
– Teamwork Award – presented to a section, unit, project team or other group of members and external partners in recognition of superior teamwork attributes in accomplishing a significant goal.
– Chief's Commendation – awarded in recognition of bravery or an exceptional contribution to the Service.
Cliff Cox is a civilian who received the Chief's Commendation. He played a big part in saving a mans life who happened to show up on his door step one night and says it was a scary scene. "Multiple slashes to his back and his arm. He lost a lot of blood and I had my wife grab a towel and I wrapped the towel around the guys arm. Tried to keep him awake because he was going in and out of consciousness."
911 was called and EMS and the RPS arrived in time to transport the victim to hospital where he recovered from his injuries.
People or organizations are nominated to these awards by employees of the Regina Police Service. The nominations are reviewed by an Awards Committee which, in turn, makes its recommendations to Executive Committee.