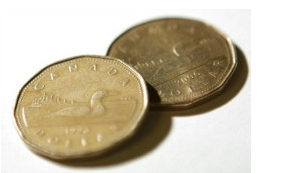 The Canadian dollar came close to falling below 68 cents US in overnight trading amid further pressure on oil prices and uncertainty about what the Bank of Canada will do in response to weakened economic conditions.
The loonie was at 68.21 cents US 0.48 of a cent below Tuesday's close about two hours before North American stock markets open at 9;30 a.m. ET. The Bank of Canada's latest interest rate announcement follows at 10 a.m. ET.
Earlier, Canada's dollar traded at 68.07 cents US the lowest since April 2003.
On commodity markets, March crude futures were at US$28.77 before North American stock markets opened, and February crude futures dipped below US$27 weighing heavily on the loonie and other currencies as well as oil producers.
Equity markets also were taking a beating, with major indexes in Japan and Hong Kong falling nearly four per cent before they closed. Major European indexes were down three per cent in the midst of their trading sessions.
American index futures were down two per cent. Dow Jones futures were down 324.0 points at 15,589.0, S*P 500 futures declined 37.75 points at 1,835.25 and the Nasdaq futures lost 90 points to 4,054.5, before North American stock trading.
On Tuesday, the Toronto Stock Exchange's S*P/TSX index ended the session up 60.07 points at 12,002.24 only the third positive day since the Christmas break.