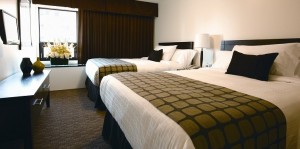 A Winnipeg hotel that's being converted into luxury apartments has decided to give 34 suites worth of furniture to Syrian refugees to help their resettlement in Canada.
John Saad, general manager of Place Louis Riel Suite Hotel, says he could have sold the bed frames, mattresses and sofas to another hotel chain.
But he believes giving it to the newcomers for their fresh start is the best way to "repurpose" it.