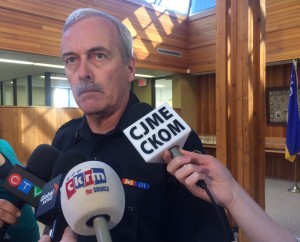 A firefighter had a close call Thursday morning when he fell through the floor of a building while working.
Crews were working to put out a fire at an empty house on Toronto Street when the firefighter fell from the second floor to the main level of the building, suffering only minor injuries.
Fire Chief Ernie Polsom says incidents like these can have lasting effects.
"Post traumatic stress disorder and critical incident stress is a major issue for our industry. This is certainly contributory to it, and it's not just the impact it has on our members, it's the impact it has on all of us and their families."
Crews responded to another fire at the same house on Monday and it was determined the fire was set intentionally. The cause of this fire is still under investigation, but it's considered highly suspicious.
Chief Polsom says these intentionally set fires are happening more often and warns the public to make sure vacant buildings are properly secured.