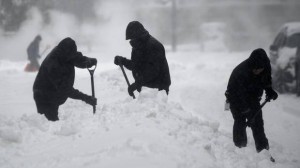 A winter storm on Saturday whipped up record-setting tides higher than during Superstorm Sandy, causing major flooding in New Jersey and Delaware after dumping nearly two feet (60 cm) of snow on the suburbs of Washington, D.C.
The heaviest snow engulfed New York on Saturday and was not expected to stop until Sunday, when up to 30 inches may have piled up in the nation's largest city, said New York Mayor Bill de Blasio.
The mayor said the storm had strengthened beyond earlier expectations in terms of accumulations and intensity.
New York City buses operated by the Metropolitan Transportation Authority were due to be suspended at noon as the storm bore down on the city.
New Jersey Transit, earlier on Saturday, suspended all bus, rail and light rail service. Earlier the Washington Metropolitan Area Transit Authority, which includes the country's second-busiest subway system, took the rare step of suspending operations through Sunday.
Nearly 4,300 U.S. flights were canceled, including virtually all travel into New York City airports, according to the FlightAware.com tracking website and transportation officials.
New York Governor Andrew Cuomo declared a state of emergency on Saturday, the 11th state to do so in order to get a handle on highways made impassable by the drifting snow and to shore up coastal areas where the blizzard conditions raised the danger of flooding.
White-out conditions prompted officials to urge residents to stay inside and allow snow plows to clear roads.
At least eight people were killed in car crashes due to icy roads in North Carolina, Kentucky, Tennessee and Virginia, and a ninth person died of a heart attack while shoveling snow in Maryland. The Pennsylvania National Guard was called in to help stranded motorists along I-78 in the western part of the state, local media reported.
The worst appeared to be over for Washington, although moderate snow was expected to keep falling until late Saturday, with the deepest accumulation of 23 inches recorded in Poolesville, Maryland, north of the nation's capital. Snowfall measured 13 inches near the White House and 3.5 inches near the National Mall on Saturday morning.
(Associated Press)