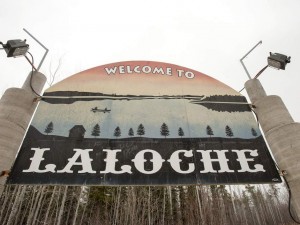 The grief stricken residents of La Loche  gathered at a church Sunday morning and again for an evening candle light vigil, as they tried to come to terms with the mass shooting Friday that left four dead and seven others injured.
Saskatchewan Premier Brad Wall spoke to a crowd gathered outside the local high school where nine of the victims were shot.
He said he didn't know if the words existed to describe how devastated the tiny northern community is, or how the province feels.
But the premier also told them "you will not be walking through this alone."
Wall said the province will give the community the support it needs to help people struggling to cope with the tragedy.
He said his government will also help La Loche deal with its long term infrastructure, education and health-care needs.
Federal Public Safety Minister Ralph Goodale, who is a Saskatchewan MP, joined Wall at the meeting and said one of the short-term goals is to make the children feel safe at school again.
The 17-year-old boy charged in the shooting is scheduled to make his first appearance Monday in Meadow Lake provincial court.
(The Canadian Press)