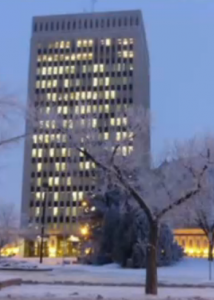 Regina city council gets together tonight and there will be a few issues on their plate for them to discuss.
With the help of Councillor Shawn Fraser, a group known as the "Regina Blue Dot Movement" will be presenting a motion where they ask the city to declare it recognizes the right for citizens to live in a healthy environment.
The motion reads "This is a public pronouncement that the City of Regina cares about the environment and the health of its residents, affirming our commitment to building a healthy and sustainable city,"
It is hoped once this has been achieved at the municipal level that the group can start lobbying provincial and federal governments to do the same.
Other matters on the agenda tonight include voting on a proposed two percent wage increase for out-of-scope employees and whether or not to approve a 10 percent funding increase from the Regina Humane Society for its low income spay and neuter program.