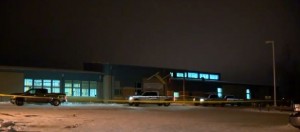 A 17-year-old boy accused of shooting four people to death in a remote Saskatchewan community described himself as an "outcast" at home and victim of bullying at school, say his friends.
The teen, who made his first court appearance Monday, was known to hold his emotions inside and rarely spoke, even when hanging out with his high school buddies in La Loche.
"He was the black sheep of the family," said Noel Desjarlais-Thomas, who described the accused as one of several friends who always hung out together.
The 16-year-old said the teen suspect would message the others in his circle of friends about not being treated equally or fairly by his family.
"He just said he was going to do something. He never really said much after that," Desjarlais-Thomas said Monday.
"We'd ask 'Why?' He never really told much. After that, it would just go blank. The conversation would just stop and something else would happen, the subject would (change.) No one ever thought this was going to happen."
Perry Herman, who also knows the accused, said the teen was teased about his large ears.
"So many of those times that those boys joked around with him about his ears and whatnot, he didn't get up and say, `You boys stop talking to me like this, it's hurting my feelings.' He just bottled it up."
Herman said the bullying must have been going on for a long time.
The suspect, who can't be named under the Youth Criminal Justice Act, is charged with four counts of first-degree murder and seven counts of attempted murder.
Brothers Drayden Fontaine, 13, and Dayne Fontaine, 17, were found dead in a house last Friday. Teacher's aide Maria Janvier, 21, died at the school, while teacher Adam Wood, 35, died in hospital.
The boy's lawyer, Ian Mokuruk, said he was contacted on the weekend to represent the accused at his first court appearance. Asked outside court how his client was doing, Mokuruk said: "He's upset. Much like his demeanour in court, he was not at all happy, which is understandable. It's a very tragic situation."
(Canadian Press)