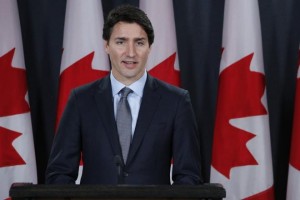 Prime Minister Justin Trudeau says the whole country grieves with La Loche and the northern Saskatchewan community must not let last week's mass shooting change its values.Trudeau visited the remote town one week after a shooter opened fire at a home and a school, killing four people and wounding seven.
The prime minister met with the injured, with family members of the dead and with community leaders.
He also held a townhall meeting with about 700 residents.
Trudeau thanked the teachers and police officers whose brave actions "undoubtedly saved many lives."
He said that in a time of darkness, the eye begins to see, and everyone must stand together to address deeper issues highlighted by the shooting.