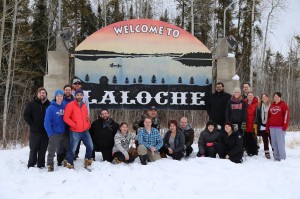 It has been one week since the community of La Loche was shattered when a 17 year old boy shot and killed two boys at a home before going to the town's school where he shot a teacher and a teacher's aide to death while wounding four others.
The teachers at the school have written a letter on the school's Facebook account.
The leader reads:
We're still here. 
The staff of the LLCS Dene Building is a lucky group of people. We spend our days helping the most precious parts of La Loche- our students- learn and grow. We get to see the strength, resilience, intelligence, and beauty of La Loche's youth every day. Our dream is to see you achieve your dreams. And this time away from you- from our classrooms, from our school- is hard. We miss you. The events on Friday were painful and scary and they won't be forgotten. Some people have expressed concern that some of us have left and the fact is, we are hurt and we are healing but we are still here. Some people need to leave to get help. We don't judge or condemn anyone who needs to be somewhere else to pick up the pieces, but we are choosing to move forward together, as a family and a community. Families are formed by blood and by circumstance. We are the Dene building family. We are supporting each other so we can help support you. We will be back. We will rebuild. We will get better together. 
So if you find yourself wondering where your teachers and school staff are, the answer is: we are in La Loche. Because truly, where else would we be?
The letter comes out on the same day Prime Minister Trudean and Premier Brad Wall are scheduled to be in the community to meet with first responders, teachers, and local officials .
The first of the four to be laid to rest will happen on Saturday when 21 year old Marie Janvier is buried in La Loche.
(picture courtesy La Loche Community School Facebook page)