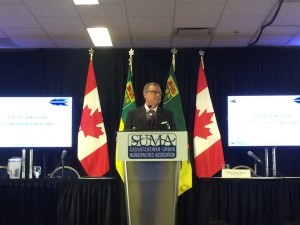 The province will run a deficit for the next fiscal year according to Premier Brad Wall, who spoke Monday morning at the Saskatchewan Urban Municipalities Association (SUMA) conference.
The Premier announced the plan to run the deficit as a solution to revenue shortfalls in Saskatchewan.
Wall says the government was very reluctant to run the deficit, but thinks it's better than the other options of tax hikes or cuts.
"I just don't want to increase taxes on an economy that has its energy sector challenges. I don't think the timing is right and we don't want to cut anymore to the spending we've reduced already, so we've made this last resort decision."
NDP Deputy Leader, Trent Wotherspoon says the government continues to be dishonest about the province's finances.
"Saskatchewan people deserve to know the true financial position of their province and the plans of their government."
Wall says the amount of the deficit will be released in the third quarter report set to come out in the next few weeks.