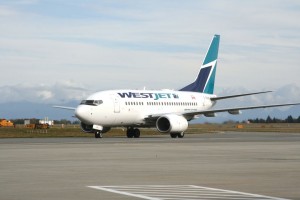 WestJet Airlines has been hit hard by the dollar's decline, which contributed to a 30 per cent decline in fourth-quarter profit.
The Calgary-based airline says its net income and adjusted earnings were both $63.4 million or 51 cents per share, down by $27.3 million from $90.7 million the fourth quarter of 2014.
The company says the 2015 fourth quarter included a $10.1 million loss on foreign exchange, compared with a $2.5 million loss a year earlier.
WestJet's revenue also declined by 3.6 per cent to $958.7 million in the three months ended Dec. 31, down $35.7 million from $994.4 million in the fourth quarter of the previous year.
The company didn't provide details on the revenue decline but suggested some of it related to Alberta's recent economic weakness as the oil and gas sector grapples with a dramatic drop in prices since late 2014.
Total operating expenses including fuel, salaries and profit sharing, aircraft leasing and maintenance declined to $846 million, down one per cent from $854.8 million.
(The Canadian Press)