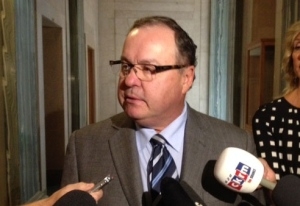 The provincial NDP has many questions over a report suggesting the SaskParty government paid an exorbitant amount of money in a land sale.
The report states the government had the land –used for the Global Transportation Hub–appraised at no more than 35 thousand dollars per acre just before offering two businessmen 103-thousand dollars an acre.
Deputy leader Trent Wotherspoon thinks the provincial auditor should be brought in to look at this and so should the RCMP.
The Conservatives are also weighing in with leader Rick Swenson suggesting economy minister Bill Boyd should resign.
Boyd says that call isn't surprising, and it won't be happening.
Boyd adds he talked to the conflict of interest commissioner before proceeding with the sale to make sure everything was being done correctly and he was told he was fine.