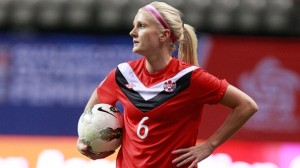 Saskatoon's Kaylyn Kyle says she'll be ready if Canada's women's soccer team calls her up for the Olympics in Rio.
The Canadian team will be playing an Olympic qualifying championship in the United States beginning next week with only the top two teams qualifying for the 2016 Olympics. However, Kyle, Saskatchewan's only representative on the national stage, was left off the roster.
Kyle, who played in the midfield on Canada's silver medal winning team in the 2012 London Olympics and the Women's World Cup in Canada last year, says she has no hard feelings for being left off the team.
She says she respects head coach John Herdman's decision, but will be prepared if they want her to play.
Kyle says donning a Canadian flag was a dream for her since she was a child, and says playing in two Olympics would be a dream come true.
She says she always tells people that money can't buy you playing and representing Canada.
Kyle points out that a number of roster moves were made in advance of the 2012 Olympics.
She says she's a Saskatchewan girl at heart, so she'll fight to the end.
While she waits, Kyle will be representing the Orlando Pride, a newly formed team in the National Women's Soccer League.
(CJWW)