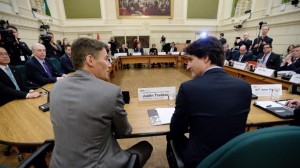 Prime Minister Justin Trudeau is promising to be flexible and fair with billions in new infrastructure money as mayors from the country's biggest cities press the Liberals for carte blanche on the new cash.
Trudeau says his government is putting a priority on getting both existing and additional infrastructure funds out the door quickly to create jobs and help the Canadian economy.
Trudeau and the mayors are billing their latest talks in Ottawa as building a new deal for cities.
Municipalities want to be able to spend the money on projects they prioritize and they want Ottawa to pick up more of the tab. In some cases, they also don't want certain provinces acting as a middleman.
The Liberals have promised to spend an additional $60 billion on infrastructure over the next decade, with $5.1 billion of the new money to be doled out this coming fiscal year.
The government also wants to move out almost $9 billion in existing infrastructure funds that haven't been allocated to any projects.
(The Canadian Press)