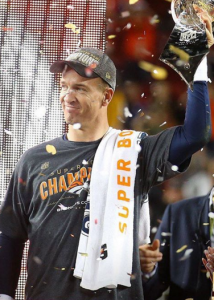 Peyton Manning gave himself a chance to have Super ending to his career, and Von Miller and the Denver defense made the plays to secure the title for the Broncos.
Manning and Panthers quarterback Cam Newton were harassed all game Sunday, and the Broncos made enough big plays for the 24-10 victory, Manning's 200th and perhaps his last before retirement.
He wasn't the star — game MVP Miller seemingly was everywhere on every Carolina play — but Manning really hasn't been the headliner in this injury-shortened season.
Emulating his Broncos boss, John Elway, the 39-year-old Manning can ride off with the Lombardi Trophy after leading Denver to its third NFL title, first since 1999 — when Elway was the quarterback.
"I'll take some time to reflect," Manning said when asked if Super Bowl 50 is the end. "I got a couple priorities first. I'm going to go kiss my wife and my kids. … I'm going to drink a lot of Budweiser tonight. Take care of those things first."
Denver's suffocating defense kept Newton jittery all day. Despite wearing gold shoes before the golden Super Bowl, Newton couldn't finish off a dynamic season in which he was the league's MVP. Miller twice stripped him, once for a touchdown, the second time setting up a clinching TD. Denver's top-ranked defense, the one that ran roughshod over Tom Brady in the AFC championship, simply wouldn't let Newton get comfortable.
The win is the 3rd NFL championship for the Broncos.
(Associated Press)