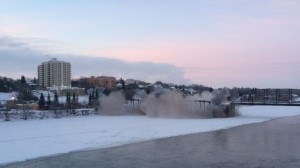 Another piece of the Traffic Bridge in Saskatoon has come down.
The north span of the bridge was successfully collapsed using explosive charges yesterday morning.
The remaining middle span of the old bridge will be taken down as construction progresses.
Officials say the contractor that's building the new bridge is hopeful residents will start to see the first new southern span being raised this summer.