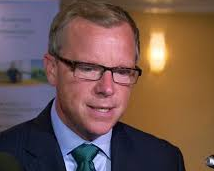 Premier Brad Wall has officially requested the Provincial Auditor begin an investigation into a recent land purchase made by the Global Transportation Hub.
The provincial NDP say they would like to see a special investigation into what they call a highly concerning land deal.
Wall says he welcomes the investigation, in order to set the record straight.
The land in question was purchased at 103-thousand dollars per acre on a 204 acre plot of land for the Regina Bypass.
A month after that transaction, which netted a Regina developer about $6 million, the GTH sold 58 acres of the same land to the Ministry of Highways for just $50,000 per acre — less than half the price it had paid.
"Serious questions have been raised about why Mr. Wall signed off on paying millions of extra dollars on the purchase of a piece of land, which was … different from the other land owners in the area where land has been purchased," Cam Broten told reporters in Saskatoon.
"I am confident that all the appropriate processes were followed," said Premier Wall in a separate news conference in Regina. "However, in order to ensure public confidence that everything was done correctly, I am asking the Provincial Auditor to review this transaction. Our government will cooperate fully with this review and I look forward to the Provincial Auditor's findings."
The NDP has suggested the Wall Government is trying to hide this issue until after the April 4th provincial election.
However, the provincial government says it s inappropriate for anyone to try to dictate the auditor's timeframe.