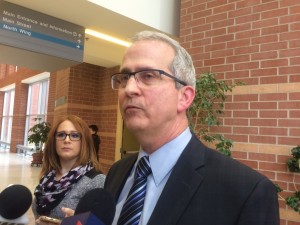 The Radiologist Association of Regina is calling on Health Minister Dustin Duncan to intervene in an ongoing dispute with them and the Regina Qu'Appelle Health Region.
The dispute started when the health region told the RAR they would be terminating its month-to-month contract with them effective December 1.
Eight radiologists have either left the region or have plans to leave over the last 22 months.
Dr. Andrea Gourgaris with RAR says the work environment has become hostile since then.
"The last four have been quite clear that they're leaving because this is just becoming quite a stressful and difficult environment to work in. They feel like their practice would be more appreciated outside of the region."
RQRH President, Keith Dewar credits the drop in radiologists to retirement.
"There are some people leaving, but they leave for different reasons."
Health Minister Duncan has no plans to intervene because he calls the issue regional, not provincial.