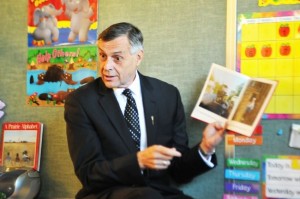 The NDP thinks the government needs to loosen up the purse strings and provide more money to school divisions across the province struggling with the influx of Syrian refugees into their respective systems with deputy leader Trent Wotherspoon going as far as saying the province is failing these new students who are trying to learn English.
Education minister Don Morgan says talks are ongoing with Ottawa about getting funding, but first they need exact numbers from Saskatoon, Regina, Moose Jaw and Prince Albert.
Morgan does admit the school divisions in question may not be seeing financial help until the new school year begins.
Morgan adds the province has not cut spending on English as an additional language programs as the NDP suggests, and says the comments from Wotherspoon on this matter are just wrong, and they know that since it was debated in question period.