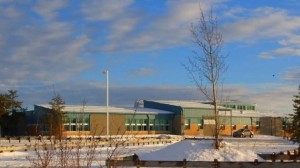 Premier Brad Wall is suggesting it's unlikely that a northern Saskatchewan high school where two people were shot to death will be torn down.
Wall says there are no immediate plans to demolish the school in La Loche but adds the final decision is up to the school division.
The Northern Lights School Division has said February 22nd is the earliest the La Loche high school could reopen.
A teacher and an aide were killed and seven others hurt in a shooting at the school last month.
Two brothers were also killed at a nearby home.
La Loche interim mayor Kevin Janvier and others have suggested the school needs to be torn down and rebuilt before the community can move forward.
The premier also says he updated Prime Minister Justin Trudeau yesterday on issues in La Loche, such as school safety and counselling, the possibility of teaching trades and community development.
(The Canadian Press)