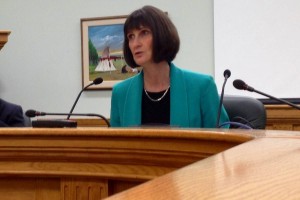 Saskatchewan's auditor says an investigation into a government land deal is a priority, but Judy Ferguson says she doesn't know when she'll be able to report the findings.
Ferguson appeared before a legislative committee today where the Opposition NDP tried to pass a motion that it says would give the auditor broader mandate.
The motion — which was rejected — called for the auditor to look into whether the government misused public funds in the land deal and to file at least an interim report before voters head to the polls April 4.
Ferguson says she's seeking legal advice on whether she can report publicly during a provincial election.
Saskatchewan Party MLA Larry Doke says the auditor has enough latitude to do an investigation and committee members don't need to be "sticking their nose into this."
The issue relates to a deal that saw the Global Transportation Hub (GTH) a Crown corporation buy 204 acres of land west of Regina.
(Canadian Press)