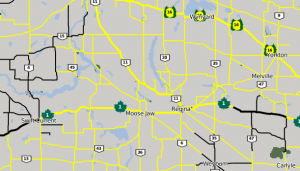 Fog Wednesday near Regina nearly caused a semi to drive off a bridge and the forecast for Thursday is calling for similar conditions.
Highway Hotline is cautioning drivers to use extra caution on roads, as some dense fog, mist and freezing rain could lead to some slippery conditions for travellers.
The forecast is calling for these damp, spring-like conditions to remain for several days.
With temperatures hovering near the zero-mark, there could be some icy conditions for drivers to contend with.
The ministry is reporting wet, conditions with fog in areas and roads subject to freezing.