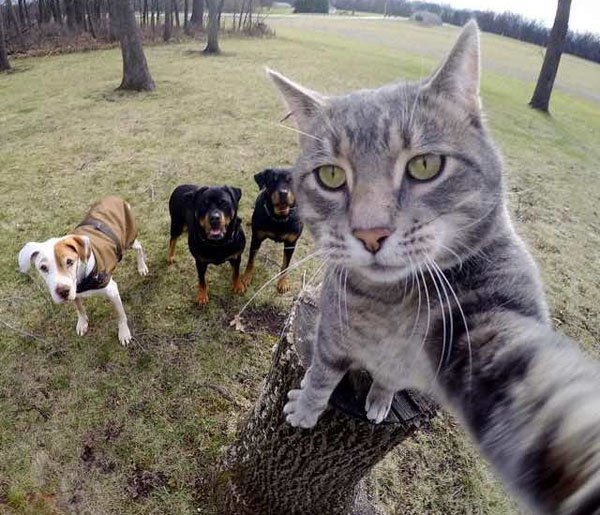 Cats, they are SO SMART!
Look at those bewildered and keen dogs!  Is this picture "staged"!  NO!!!
Here's a reflection of a smart cat, being rather nonchalant,  getting the ever loveable dogs into a popular SELFIE pose.
Is this a model that resonates everywhere.  Co-existing with things we don't always like, but we make the relationship work.
Is it like Yin and Yang.  Night and Day!
Dogs are loyal.  Cats are independent.  Dogs seek approval, cats not so much!
We all have our differences with politics, religion, work ethic, what we see on television, hear on the radio, experience in daily life.
The world is built on being individuals working toward a common goal; leading a good and honorable life.  I don't think we wake up each day thinking of how to "screw" one over for your own gains.
There are people out there however, that like to see others fail.
They get their kicks from others failing, perhaps going as far as to create some outside buzz that accelerates ill will toward individuals.
Why do these people "stir the pot"?  What kind of joy is there in making others feel inferior.  Should we not be open to seeing other people achieve greatness.
Wednesday,  the Red Cross  is encouraging everyone to openly express that spreading kindness is the way to end bullying.  After all, kindness never goes out of style.   Neither should being polite, courteous and yes, even loyal.
Make those that use social media as a weapon of character destruction go away.  They are not welcome to inflict their attitude on the rest of society!
If this cat and these dogs can stand united why can't we!