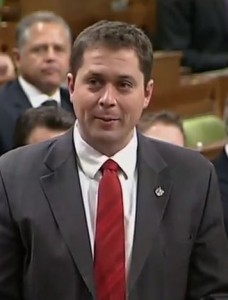 Regina-Qu'Appelle MP Andrew Scheer today called on the Trudeau government to honour their promises to "work with provinces" by allowing Saskatchewan to opt-out of any job-killing carbon tax regime.
"A new national carbon tax would devastate all aspects of the economy, making Canadians pay more for everything they buy, and it will drive out investment," said Scheer in Question Period today. "Premier Brad Wall has warned that this new tax would hurt economic growth and cost jobs across the country. Saskatchewan has indicated it wants no part of this job-killing scheme."
On Thursday, Saskatchewan Premier Brad Wall flatly rejected the Trudeau government's plan to impose a job-killing carbon tax that would be at least $15 a tonne. In Ottawa, Scheer echoed Premier Wall's concerns.
"The absolute worse thing one can do during an economic downturn is to burden Canadians with higher taxes. The proposed national carbon tax would kneecap the energy sector," said Scheer. "Canadians out of work across the country expect the government to grow the economy, not add additional burdens. This is a terrible idea that could not come at a worse time."