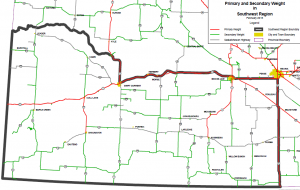 Winter weight allowances on secondary highways are being removed on Monday, February 22nd.
Highways minister Nancy Heppner says soft roads need protection from unnecesary damage.
The removal of winter weights will start in the south and move north in coming weeks.
Legislation dictates all winter weights are removed by March 15th.
The end of winter weights season will be followed by spring road bans, which may remain in effect for up to six weeks, allowing time for roads to dry out.