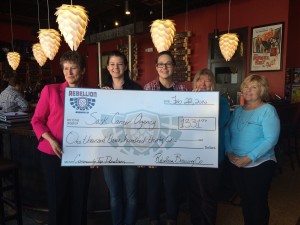 A pink beer created by Rebellion Brewing has raised $1,331 for the Saskatchewan Cancer Agency.
The company sold their very own Pink Ribbon Hibiscus beer beginning in October in coordination with Breast Cancer Awareness month, with a dollar from each beer going toward cancer prevention.
Linda Weir with the Saskatchewan Cancer Agency says the money will be used for breast cancer screening.
"This donation is really important because it helps us support our breast screening program, so we can buy equipment and other things we might need."
The brewery donates roughly five to ten thousand dollars to various charities though its community draft series.