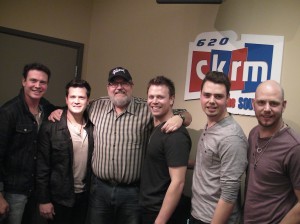 I had a great weekend and it all started on Friday afternoon.
I know talent when I hear it and listening/talking to The Hunter Brothers you know these guys are in it for the long haul. I've always said that Saskatchewan is a hot bed of great talent and the 5 brothers from Shaunovan,SK are like fresh cream off the farm. They are destined to rise to the top because the cream always rises to the top.
Flirting with the possibility of making music a full-time career since they picked up their first instruments in pre-kindergarten, this country-loving quintet will be stepping away from their combines this year to release "El Dorado," a melody-driven song that depicts the feeling of growing up in the country with your hand out the window, cruising up and down dirt roads.
This year is the first time they've come together to create a collection of songs that they hope will earn them attention on country radio stations across Canada.
There are no harmonies like brotherly harmonies and The Hunter Brothers are in for a "good ride".
Here's our visit……….. Hunter Brothers Interview Feb 19 2016 Seg 1
Hunter Brothers Interview Feb 19 2016 Seg 2 (end of segment 2 was clipped…..apologies…watch video below for it's entirety)
Here's the performance from our 620 CKRM studio lobby……..