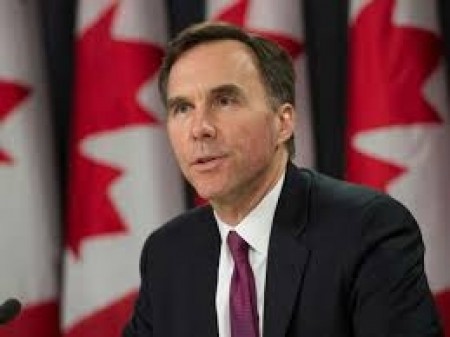 The federal government is projecting a deficit of at least 18.4 billion dollars next year, not including spending the Liberals promised during the election campaign.
The shortfall is nearly five times the projections from just three months ago and well past the 10-billion-dollar limit promised by the Liberals.
Finance Minister Bill Morneau says he'll unveil his maiden budget on March 22nd.
And that document could show a deficit projection well in excess of 20-billion dollars once a number of big-ticket Liberal campaign promises including infrastructure spending are factored in.
Morneau staged a campaign-style town hall event in Ottawa today to deliver the bad news, where he also tried to reassure Canadians who might be reconsidering their ballot-box choice last October.
In a pre-emptive defence against expected Opposition criticism, Morneau told the gathering he won't have his first budget simply become a kneejerk reaction to recent economic shifts.
The federal Finance Department is also predicting a 15.5-billion-dollar deficit in fiscal 2017-18 more than six times its estimate last fall of 2.4-billion dollars.
The calculations are based on an average projected oil price of 40-dollars for 2016, down from 54-dollars in the government's fall update, and projected growth of 1.4 per cent, down from two per cent in the fall.
The Liberals are banking on some of their spending vows to help revive economic growth and create jobs in Canada's struggling economy.
(The Canadian Press)