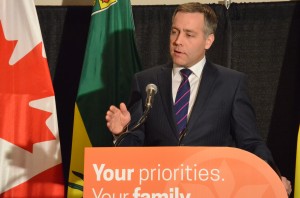 The provincial election campaign hasn't officially started yet, but NDP leader Cam Broten is making a campaign promise.
Speaking in Regina Tuesday morning, Broten pledged to cut 59 million dollars a year in private consultants.
Broten claims under the SaskParty, spending on consultants has gone up from 32 million in 2007 to a current level of 129 million dollars.
He says the NDP will roll back the eight years of the SaskParty's spending spree on consultants by 70 percent in most ministries, for a savings of between 59 to 63 million per year, or 244 million over four years and devote the tens of millions of dollars which will be saved to things that matter, like seniors care, health care and education.
Broten says in good times and tough times, Saskatchewan families will always be his priority.