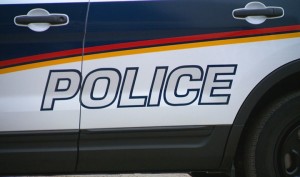 Saskatoon Police were quick to notice a a red Buick in the city's west end overnight.
The vehicle was being driven erratically and was observed going through stop signs, speeding and at one point jumped the center median.
Officers were aware of the fact a red Buick had been stolen in Saskatoon early last month and police have had several pursuit situations over the past couple of weeks with a vehicle matching that description.
Those pursuits were called off due to public safety concerns.
The Air Support Unit (ASU) was able to watch the vehicle as it left the city south on Valley Road into the rural area.
ASU was able to guide ground units in to position enabling tire deflation devices (stop sticks) to be deployed.
The vehicle was disabled without incident, on Hwy 60 just south of the city limits.
A 28-year old Saskatoon woman is charged with possession of stolen property as well as several traffic related offenses.
Firearms, along with other weapons and illicit drugs were also found in the vehicle.
The investigation is continuing and additional charges are pending.