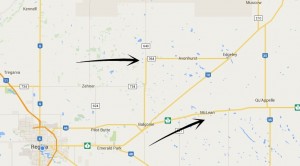 One person is dead after a two-vehicle crash near Balgonie.
A semi-truck and a pickup truck collided on Highway 10.
The semi-truck was hauling fertilizer and some spilled into the ditch.
Motorists were detoured around the scene.
RCMP say the incident occured approximately 13 kilometres north of Balgonie around 11:00 p.m. on Wednesday.
STARS Air Ambulance was called to the scene, but the 45-year old driver of the pickup was pronounced dead at the scene.
There are no details at this time about the condition of the driver of the semi.