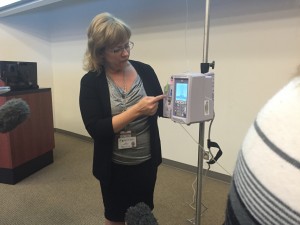 Officials from the provincial government and Regina Qu'Appelle Health Region were on hand Thursday morning  at the General Hospital to unveil a new "smart" IV pump which will improve patient safety.
The pumps are pre-programmed thanks to some work with the provincial drug library, which should eliminate any human error when administering dosages.
The machines are currently being used in Regina, but 3S Health Vice president of business development Mark Anderson says they should be everywhere in Saskatchewan by the start of 2017.
Rural and remote health minister Greg Ottenbreit says this state-of-the-art technology means patients and families can be more confident they are getting the highest level of care.