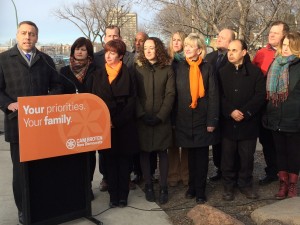 Saskatchewan NDP leader Cam Broten says his party will reduce emergency room wait times to 15-minutes and 30-minutes  – depending on the emergency – by 2018.
Broten delivered one of his first campaign promises Thursday morning.
He also promised a one-hour maximum wait for less-urgent cases by 2019.Broten says patients have become less and less of a priority in Saskatchewan. Broten says in order to achieve these goals, Broten says his government would hire 35 nurse practitioners to help fast-track patients who can be quickly treated and released.
He also says the NDP would open four 'quick care' clinics in four years in an effort to take pressure off of ERs.
Finally, his government would implement 'community paramedic' pilot programs in Regina and Saskatoon with an aim of treating more people at home, and not in ERs.
Health Minister Dustin Duncan says the province is committed to reducing ER wait times by 60 percent by 2019.