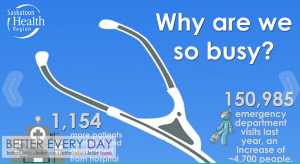 Two of Saskatoon's three major hospitals are badly overcrowded.
The Saskatoon Health Region says the Royal University Hospital and St. Paul's Hospital are in a "critical overcapacity situation."
Officials say an increase in flu and other cases is putting stress on the system and many staff are also ill.
The region says hard hit service areas include emergency, intensive care units and pediatrics.
To deal with problem the region has put together a team to help the two hospitals over the coming days.
The region says it is creating space in the emergency departments by temporarily placing some patients on stretchers and is calling in staff to work overtime.