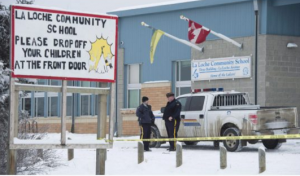 More than a month after a tragic shooting shocked the community of La Loche, the high school where two of the four victims were killed will be filled with students.
A teacher and teacher's aide were killed at the Dene community high school, while two teenagers were shot in a nearby home.
Students, staff and community members marched through the town on Wednesday in a Reclaiming Our School walk, and gym and history teacher at the high school Jonathon Busse says the walk was a significant step to recovery.
Busse says teachers will be there for the students when they return tomorrow (Fri), and hope to provide as many happy memories as possible for the rest of the school year.