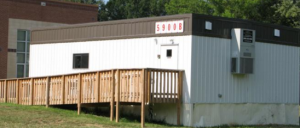 46 new relocatable classrooms are set to be added to schools in the province with another 9 set to be moved to a different site.
Education Minister Don Morgan made the announcement at Georges Vanier school in Saskatoon on Friday.
These look very similar to any regular classroom and cost around the same amount as a permanent classroom.
Morgan says they use relocatables at schools because they help deal with the influx of students that come with growing neighbourhoods.
In addition to the relocatables, Morgan also announced a $3.4 million in funding to improve bandwidth at schools across the province.
More than 400 connections are set to be upgraded by 2017.