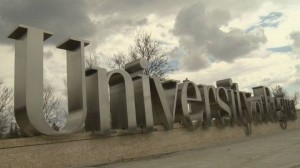 A rise in gastrointestinal illness on the University of Regina campus is being closely investigated.
The Public Heath division of the Regina Qu'Appelle Health Region is providing assistance as the U of R looks at ways of providing additional precautions.
In a press release, the University says gastrointestinal issues are not uncommon but they are taking the matter seriously.
44 people are sick according to U of R officials.
A statement was recently sent out to students and faculty advising them of the situation and the precautions which must be taken.
Officials says gastrointestinal illness is not related to the flu which is a respiratory illness.
The university has closed the health and wellness centre and custodial staff have also increased cleaning protocols.
All University food services are still open, but they are not using buffets.
Students and staff members are being told to stay home for at least two days after recovering from symptoms and three days if they work in food services.
The institutions housekeeping, custodial and food services staff will be taking extra cleaning precautions and the University's Fitness and Lifestyle Centre will be closed for the weekend.