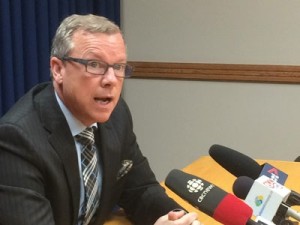 Ahead of the premiers meeting in Vancouver this week, Premier Brad Wall says he will not sign off on a carbon tax that is being proposed by the federal government.
The proposed numbers for the tax lie between $15 per tonne and $40 per tonne of emissions.
Wall said Monday the tax in general worries him because of how the economy is struggling right now, but that high end $40 per tonne would really hurt families. The cost per year would be $1,200 in extra taxes.
Provincially, Wall says the $40 per tonne would mean $1.2 billion in lost to Ottawa in taxes. Even at $15 per tonne the province would be paying $500 million in carbon taxes.
He says that's why projects like the carbon capture at Boundary Dam are so important and need to be looked at instead of a tax.
Wall says if the economy was booming he may be in favor of something similar to this, but only on a provincial scale and only for those heavy users.
(CJWW)