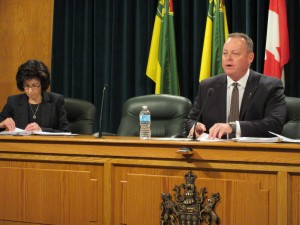 The low price of oil is pushing the Saskatchewan government's budget further into the red.
Finance Minister Kevin Doherty says the government is forecasting a deficit of $427 million for the current fiscal year a $534-million drop from the budget tabled last March.
Doherty says apart from $100 million to cover forest-fire costs, the government was able to control spending.
The big hit comes on the revenue side where income from non-renewable resources is down more than $600 million.
Doherty says he can't manage the price of oil and doesn't know where it is going to go.
The Opposition N-D-P, in the meantime, claims the government has mismanaged the budget after Finance Minister Kevin Doherty revealed a deficit of 427 million dollars for the current fiscal year.
N-D-P Leader Cam Broten says the Saskatchewan Party inherited a booming economy and billions in a savings account when it took power in 2007.
But Broten says the government drained the rainy day savings fund during the sunniest days in Saskatchewan and put nothing aside long term.
Broten argues the government should have opened the books sooner so voters could get a full picture ahead of the April 4th provincial election.
"The first announcement we talked about was eliminating waste. When we're in a situation like this, it shouldn't be the Saskatchewan people that are suffering."
The finance minister says he's comfortable going to voters with the numbers.