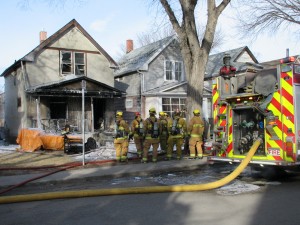 Two people managed to safely escape a house fire Monday morning.
Firefighters were called to the blaze just off Dewdney Avenue and Garnet Street at about 9:30 a.m.
Randy Ryba, Fire Marshal for Regina Fire and Protective Services says there is no word yet on what caused the fire.
"My investigator just arrived on scene, he is doing some interviewing. Once the house is safe to enter he will begin his investigation."
There is no cost estimate on damages to the home as of yet. Ryba says the two people did not suffer any injuries.