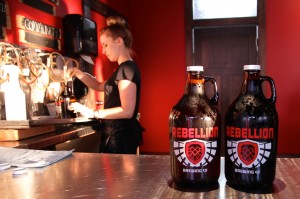 Good news for beer drinkers in Saskatchewan.
Craft beer lovers now have more options when it comes to filling their growlers. That's because off-sale outlets, franchises, private stores and Saskatchewan Liquor and Gaming Authority stores are now allowed to provide growler fills of craft beer.
Growlers are reusable containers favoured by craft beer drinkers. Once you buy the growler (typically 64 ounces in size and made of glass), you can use it over and over again, only paying for the actual beer. Until now, growler fills were limited to microbreweries and brew pubs where the beer was made and farmers' markets.
The news is great for the industry as this will allow new retail opportunities for the craft beer industry as fills could only happen at farmers markets or the onsite brewery like Rebellion Brewing in Regina which is where today's announcement was made.