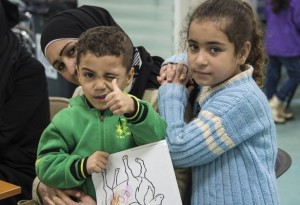 Immigration, Refugees, and Citizenship Minister John McCallum says Canada has reached a "significant milestone" with the arrival of 25,000 Syrian refugees.
McCallum told a news conference at Toronto's Pearson airport Monday the work continues to integrate the Syrians into the community.
McCallum was at the airport as the last two government-arranged refugee flights were arriving as part of the Liberals' $678-million settlement plan.
The refugee resettlement program was launched in November, after the Liberals came to power and promised to bring in 25,000 government-sponsored refugees by the end of February.
But the 25,000 Syrians that have already arrived in the country are a mix of more than 14,300 refugees assisted by the government and about 8,500 sponsored privately.
An estimated 4.7 million Syrians have registered as refugees since the outbreak of the Syrian civil war in 2011, but the UN refugee agency is not seeking permanent new homes for that many.
Approximately 400 refugees have settled in Regina.
(With files from The Canadian Press)