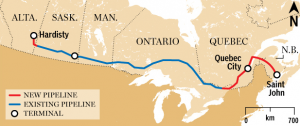 The Quebec government is seeking an injunction against the Energy East pipeline project.Environment Minister David Heurtel says he wants the $15.7-billion project to be subject to the province's environmental regulations.
Heurtel told a news conference in Montreal Tuesday he has asked TransCanada Pipelines to supply a report on the environmental impact of Energy East in Quebec.
His announcement comes a few weeks after a coalition of Quebec environmental groups said it would take legal action against the project for the same reasons.
The move comes after a British Columbia court ruled in January the province had a responsibility to examine the Northern Gateway project in BC.
TransCanada has not replied to Quebec's requests for formal notice, saying Energy East is subject only to federal regulation.
The pipeline would carry 1.1 million barrels a day of western crude as far east as Saint John, N.B., serving domestic refineries and international customers.
In early February, Saskatchewan Premier Brad Wall said Prime Minister Justin Trudeau should take a stand and support the Energy East pipeline.
Wall said what's needed from the Prime Minister is a "champion for the energy sector, especially for a project that's basically two-thirds conversion."
Premier Wall says Ottawa is treating the energy sector differently than other industries.
(with files from The Canadian Press)